News
April 25, 2018: Drs. Xiaofei Tu and Wendy Xie awarded STARTALK Grant to offer Chinese instruction to high school students.
Drs. Xiaofei Tu and Wendy Xie were awarded a STARTALK grant of $89,724.10. The federal grant will fully fund 18 high school students to participate in a three-week, residential Chinese immersion program, titled "The High Country Meets the Middle Kingdom." The program will run from July 9 to July 17, 2018 on the campus of Appalachian State University. More information on the program can be found here.
STARTALK is a project funded by the National Security Agency and administered by the National Foreign Language Center at the University of Maryland. STARTALK's mission is to increase the number of U.S. citizens learning, speaking, and teaching critical-need foreign languages, with programs for students (K-16) and teachers.
April 16, 2018: Jeb Bryant headed to teach English in Austria.
Jeb Bryant, a graduating senior from Stokes County, is moving to Steiermark, Austria for a Teaching Assistantship in English for a year with the Austrian/American Educational Commission/Fulbright Commission. Check out the full story here.
February 16, 2018: Paloma Fernández Mira, Dr. Beverly Moser, and Judson MacDonald represented the Department of Languages, Literatures and Cultures by participating in the annual Tech4Teach Fair at Appalachian State University.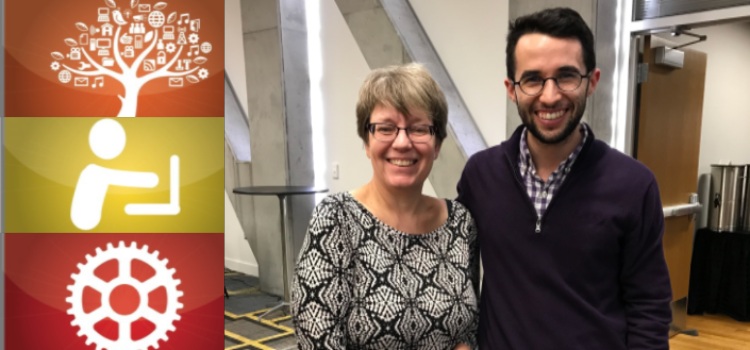 As described on the T4T website, "the Tech4Teach Fair is an annual opportunity for instructors & students to: SHARE how they use technology to enhance engagement & learning, LEARN how others on campus effectively utilize technology to enhance engagement & learning, and GROW via connecting & developing purposeful learning relationships with students & instructors on campus." Participants experienced 30+ e-poster sessions from faculty and students, a session of roundtable discussions (including one led by MacDonald on "Collaboration & Interaction"), and presentations by sponsors Adobe and Belk Library & Information Commons.
Ask our representatives what they learned and be sure to mark your calendars for the next T4t Fair in February 2019! If you are interested in helping with next year's event, please contact T4T planning committee member Judson MacDonald (macdonaldjw@appstate.edu).
January 31, 2018: Dr. Kevin Kennedy's documentary receives Impact DOCS Award of Merit in La Jolla, CA
Dr. Kennedy's documentary "Germans in Jamaica: War, Spies and Camps" won the Impact DOCS Award of Merit. It also won the Semi-Finalist Award at the Caribbean Film Festival in Houston, TX.

January 24, 2018: Dr. Paul Sebastian Delivers IALLT Webinar
Assistant Professor Paul Sebastian who teaches applied linguistics and Spanish delivered a webinar as part of the ongoing IALLT webinar series. Audience members from a variety of locations and institutions connected via Zoom as Dr. Sebastian discussed the relevance of language resource centers in today's technological and methodological climate. The webinar has been archived on YouTube and is available here.
November 15, 2017: Dr. Beverly Moser and Mr. Morgan Prince, Recipients of the 2017 Global Leadership Awards
Two members of the Department of Languages, Literatures & Cultures were recognized for their efforts in advancing global learning at Appalachian State. Dr. Beverly Moser (Professor of German) and Morgan Prince (Graduate Student in the Masters in Romance Languages, French) were both awarded the 2017 Global Leadership Award by App. State's Office of International Education and Development (see the full story here).
September 14, 2017: Judson Macdonald, Appalachian State Outstanding Student Teacher of the Year

Since completing his BA in Spanish Education and enrolling in the Department of Languages, Literatures, & Cultures MA program in Romance Languages, Judson MacDonald has had quite the banner year. In addition to presenting his research at a handful of local and national conferences (including the ACTFL conference in Nashville), Judson was awarded the prestigious Appalachian State University Outstanding Student Teacher of the Year Award (see that story here). Recently, he was also featured in Appalachian Magazine in their "Living Like You Mean It" series featured here.