Caroline Smith has attended Appalachian State University for 5 years, and is a graduate student of the DLLC in the Romance Languages, Spanish College Teaching track. She traveled to Salamanca, Spain in Fall of 2021 with the graduate student exchange partnership Appalachian has with the University of Salamanca. In the "winter coat" worthy halls of La facultad de filología, Caroline studied teaching methodology for 2nd language learners of Spanish. Her classes included topics such as teaching methods for Spanish, teaching and instruction to foreigners, and an oral skills class. Her classes were completely in Spanish with native speakers. This helped her to gain vocabulary and skills to talk about more complex topics in Spanish.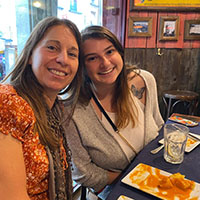 Caroline also gleaned Spanish skills outside of the classroom as she engaged in the community around the school. "Most people didn't speak English, " she stated. From the classroom to the market places, Spanish was the primary language of communication, and this helped Caroline to engage with the language everyday.

"I liked the work-life balance." Caroline talked about how work and life seemed to have a healthy division. She stated that there was little small talk about work and the 2pm-5pm siesta is still practiced with many stores closing during this timeframe. She loved the depth of history that she found in Spain. The history from the 1200s was of particular interest to her as this history dated to before the United State of America was founded. Caroline also loved the atmosphere of the university. The professors were very relaxed and asked for students to call them by their first names. Caroline believed that this aided the students in asking questions.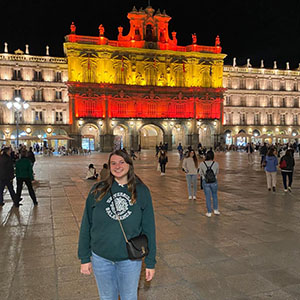 Caroline had the opportunity to study for the Diplomas de Español como Lengua Extranjera (DELE) while abroad. These diplomas are issued by the Instituto Cervantes. She studied for this test using the classes she was taking, the discussions she had with students, and naturally through the environment. Caroline passed her DELE exam at a C1 level!
Caroline's advice to anyone going to study abroad is to, "put yourself out there." In reflecting on her own experience, she believes that her experience would have been even better if she took a little more of her recreational time to challenge herself to engage in new activities. Caroline's experience overall helped her grow in her Spanish skills, and she believes studying abroad is valuable to anyone that has the opportunity.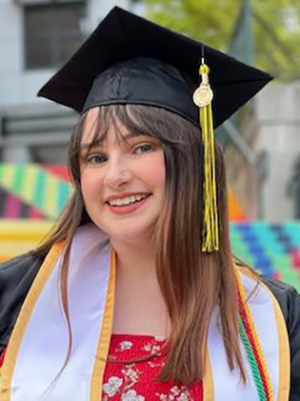 Tags: