On January 29, Dr. Irina Barclay, Professor of Russian and Russian Literature in the Department of Languages, Literatures & Cultures, spoke about her published book, Twenty Years in a Siberian Gulag (McFarland, 2020).
TWENTY YEARS IN A SIBERIAN GULAG: MEMOIR of a POLITICAL PRISONER at KOLYMA. Leonid Petrovich Bolotov. Translated and edited by Irina Yevgenievna Barclay McFarland & Company, Inc., Publishers, Jefferson, North Carolina 2020, 272 p.
ISBN (print) 978-1-4766-8221-1; ISBN (ebook) 978-1-4766-4039-6.
Summary and Overview Provided by Dr. Barclay
My publication is an exposé and excoriation of the shunned Gulag topic that I often overheard my parents' whispers of when discussing relatives' arrests at the hand of Joseph Stalin. In 2003, I met Lana Bourret Bolotova, whose grandfather, Leonid Petrovich Bolotov, survived 20 years in Siberian Kolyma Gulags. Unlike my relatives, her grandfather wrote a 400-page memoir of his ordeal titled: Двадцать лет по бериевскому аду [Engl.: Twenty Years in Beria's Hell]. To resolve lingering family questions about the Gulag, I eagerly agreed to translate Lana's grandfather manuscript. In Bolotov twenty-year Gulag incarceration, he reconstructed Soviet chronicles of repressions, described family arrests of two famous Soviet/Russian writers, Arkadii Gaidar (1904-1941) and Nikolai Dobronravov (1929-), guards' actions in jails, camps' descriptions, and grueling labor in the Arctic.
The translation is comprised of a glossary, acronyms, and wide-ranging bibliography related Russian, English, Ukrainian, and Czech sources. The index contains two hundred individual prisoners' names from newly released sources. Together, these factors add a rich substance to Bolotov's memoir and weighty source to modern Gulag information.
Twenty Years in a Siberian Gulag includes fourteen unpublished Gulag Kolyma pictures, prison sketches by famous childish artist Nina Lekarenko's, period-pictures from Lana Bourret's, and the photographs of Bolotov's apartment and prisons in Saint Petersburg by the translator. The translation also includes unknown facts obtained from the Archive of the President of the Russian Federation, including one hundred eighty footnotes, an informative fount of unknown facts for examining Soviet life:1937 - 1957.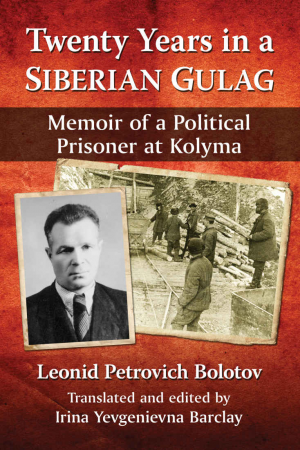 Tags: