We are pleased to invite you to the Department of Languages, Literatures & Cultures' 3rd Annual International Speaker Series on Monday, February 8, 2021, from 7-9pm EST. During this event, Dr. Omer Bartov, John P. Birkelund Distinguished Professor of European History from Brown University, will deliver a lecture titled: "Genocide from Below: Rewriting the Holocaust as First-Person Local History."
The lecture will be delivered via Zoom and is free and open to the public. Register in advance for the Zoom lecture here:
https://appstate.zoom.us/meeting/register/tJYvcuygpjotHdCh4RIxmlnuJd5eikU4s5tn
After registering, you will receive a confirmation email containing information about joining the meeting.

From 11:00am to 12:30pm EST on the same day, Prof. Bartov will participate in a research colloquium on a range of topics, from the Holocaust in Eastern Europe to the Jewish-Palestinian conflict. These events are co-organized by the Department of Languages, Literatures & Cultures and the Center for Judaic, Holocaust and Peace Studies at Appalachian State University.
Abstract for the lecture
For more than four hundred years, the Eastern European border town of Buczacz – today part of Ukraine – was home to a highly diverse citizenry. It was here that Poles, Ukrainians, and Jews all lived side by side in relative harmony. Then came World War II, and three years later the entire Jewish population had been murdered by German and Ukrainian police, while Ukrainian nationalists eradicated Polish residents. In this lecture, Omer Bartov (Brown University) discusses his most recent works, including Anatomy of a Genocide: The Life and Death of a Town Called Buczacz (2018) and Voices on War and Genocide (2020), and illuminates how significant individual witnesses from one locality are to the writing of history, particularly of conflict and war. Using primarily diaries and personal letters from eyewitnesses in and around Buczacz – perpetrators, victims, and survivors - he explains how genocide doesn't occur as is so often portrayed in popular history, with the quick ascent of a vitriolic political leader and the unleashing of military might. It begins in seeming peace, slowly and often unnoticed, as the culmination of pent-up slights and grudges and indignities. The perpetrators aren't only sociopathic soldiers. They are neighbours and friends and family. They are also middle-aged men who come from elsewhere, often with their wives and children and parents, and settle into a life of bourgeois comfort peppered with bouts of mass murder.
Dr. Omer Bartov's Biography
Omer Bartov is the John P. Birkelund Distinguished Professor of European History at Brown University. Born in Israel and educated at Tel Aviv University and St. Antony's College, Oxford, Bartov's early research concerned the Nazi indoctrination of the Wehrmacht and the crimes it committed in World War II, analyzed in his books, The Eastern Front, 1941-1945, and Hitler's Army. He then turned to the links between total war and genocide, discussed in his books Murder in Our Midst, Mirrors of Destruction, and Germany's War and the Holocaust. Bartov's interest in representation also led to his study, The "Jew" in Cinema, which examines the recycling of antisemitic stereotypes in film. His more recent work has focused on interethnic relations in the borderlands of Eastern Europe. His book Erased(2007) investigates the politics of memory in West Ukraine, while his most recent monograph, Anatomy of a Genocide: The Life and Death of a Town Called Buczacz (2018) is a microhistory of ethnic coexistence and violence. The book received the National Jewish Book Award and the Yad Vashem International Book Prize for Holocaust Research, among others, and has been translated into several languages. Bartov has just completed a new monograph, Tales from the Borderlands: Making and Unmaking the Past. His many edited volumes include Shatterzone of Empires: Coexistence and Violence in the German, Habsburg, Russian, and Ottoman Borderlands (2013), Voices on War and Genocide: Three Accounts of the World Wars in a Galician Town (2020) and, reflecting his new interest, Israel/Palestine: Lands and Peoples (forthcoming in 2021).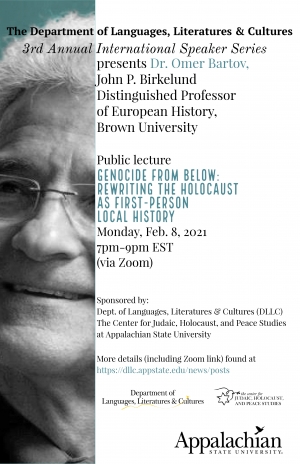 Tags: