Nihad Dukhan is a Palestinian-American master of Arabic and Islamic calligraphy. He is a professor of mechanical engineering at University of Detroit Mercy.
His interest in Arabic calligraphy began when he was in the sixth grade in Gaza, Palestine. He studied with the noted Istanbul grand master calligrapher Hasan Celebi (pronounced Chalabi) in Thuluth and Naskh styles and his Ijazah (master of calligraphy degree) in 2009 after 11 years of study. He studied Taliq style with master calligrapher Mohamed Zakariya, and receive his other Ijazah in 2013, after 7 years of study.
Dukhan has started pursuing, and refining his personal modern form of Arabic calligraphy around 1989. His modern designs are highly stylized, but remain legible with tremendous simplicity. His work has been exhibited in major US cities and in Istanbul, Turkey. His designs are sold in the US, Europe, the Middle East and Japan. His commissions include company logos, book covers, CD jackets, wedding invitations, and others.
Professor Dukhan is active in promoting Arabic calligraphy and increasing people's awareness of its cultural significance through exhibits, lectures and workshops. His intent is not only to attract the Arabic speaking audience, but to penetrate barriers and touch other languages and cultures.
Itinerary
Tuesday, Sept. 24
9:30 am - 11 am
Workshop with Dr. Mira Waits (Art Department) (Belk Library 421)
12:30 am - 1:45 pm
Lunch with Watauga Residential College Students
5:30 pm - 7:15 pm
Dinner at Red Onion
7:30 pm
Nihad Dukhan's lecture (Belk Library 114)
Wednesday, Sept. 25
11:00 am-12:00 pm
Class with Dr. Salwa Ben Zahra (ARB 1010)
1 pm - 2 pm
Coffee/reception with faculty and students (LS Dougherty 113)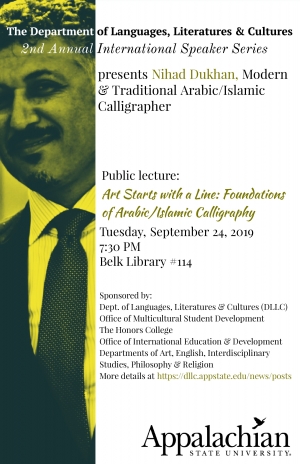 Tags: