The DLLC would like to celebrate with the 2022 graduating class of MA students!
Jenna Elliott, Rayane Amrani, Montana Murphy and Diego Hernandez Guillen are all graduates of the Spring 2022 semester. Jenna Elliott will be studying for her Master's in forensic linguistics in the university of Aston in Birmingham, England. Rayane Amrani will be teaching English in Toulouse, France this coming year through the Teaching Assistant Program in France. Montana will begin teaching Spanish this coming fall at Walkertown High School and Diego has received a Spanish teaching position at Watauga High School here in Boone.
Caroline Smith, Mark Hagen, Allison Hawkins, Sergio Cutiva Valencia, and Mattea Richardson will be graduating in the summer of 2022. Caroline will be starting her Ph.D. studies in Romance Languages with a concentration in Hispanic literature at the University of North Carolina at Chapel Hill this coming Fall. Mark, the Assistant Director of Education Abroad at Appalachian, will continue in this position after graduation. Allison is currently teaching in Cashiers, North Carolina. Sergio and Mattea plan to teach Spanish after their summer studies.
Congratulations from the DLLC to the graduating MA class of 2022!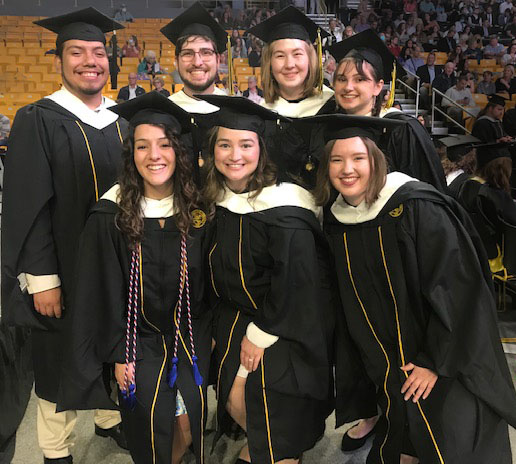 (Picture Description: From left to right: Diego Hernandez Guillen, Sergio Cutiva Valencia, Jenna Elliott, Caroline Smith, Rayane Amrani, Montana Murphy and Mattea Richardson.)
Tags: