Language(s) taught
Spanish
Teaching/Research
Spanish Language. Latin American Literature and Culture. Andean Studies. Latin American Women Writers. Performance Studies. Business Spanish.
Degrees/Certifications
PhD, Latin American Literature and Culture. Andean Studies. (1997) University of Maryland
Academic achievement
Victoria Cox is Associate Professor at Appalachian State University. She specializes in Colonial Andean literature, Argentine popular theatre, Contemporary Latin American Studies, and Latin American Women Studies. Her articles have been published in journals and anthologies specializing in Latin American literature. Her 2002 book Guaman Poma de Ayala: entre los conceptos andino y europeo de tiempo (The Representation of Andean and European Time and Space in Guaman Poma de Ayala's New Chronicle and Good Government) examines concepts of time and space in the manuscript of a 17th century Andean author. In 2007 she received a Fulbright award to pursue her research at the Ibero-Amerikanisches Institut in Berlin. She co-authored (with Nora Glickman) a book on Argentine popular theatre titled El inglés en el teatro y el cine argentino: De los orígenes a Malvinas (The Portrayal of the British Colonial Invasion in the Argentine Popular Theatre and Contemporary Film) (2011).
Dr. Victoria Cox is member of the College of Arts & Sciences Academy of Outstanding Teachers.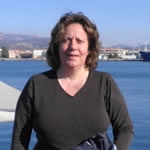 Title:

Professor, Spanish
Department:

Languages, Literatures & Cultures

Email address: Email me

Phone: (828) 262-7101
Office address
108 B