Language(s) taught
Spanish and TESL
Teaching/Research
I teach courses in foreign language methodology, second language acquisition, bilingual and ESL education, as well as Spanish and ESL. My research is often centered around issues related to language learning and technology but I have also spent time investigating the evolution of language laboratories and exploring endangered languages in Northern Spain.
Degrees/Certifications
Ed.D. (2017) Boise State University
M.A. (2012) Brigham Young University
B.A. (2010) Idaho State University
Academic achievement
2017 Recipient of the IALLT Ursula Williams Graduate Student Conference Grant
2016 Recipient of $3000 NEH grant to study endangered languages in Northern Spain
2012 Outstanding Graduate Student of the Year Award, Brigham Young University
2012 Best of Spanish Award for presentation at Utah Foreign Language Association Conference
2004 Recipient of Horatio Alger Scholarship
Personal Bio
My background is in language learning and technology with a particular emphasis on learning spaces including physical, hybrid, and virtual environments. I have conducted research in social media, linguistic landscapes, preservice professional development, and, most recently, on the history of the language laboratory. My current work involves tracing the roots of the language resource center back to its 20th century counterpart: the language laboratory.
Publications/Presentations
Publications
Sebastian, P. (2018). [Review of the book From language lab to language center and beyond: The past, present, and future of language center design, by F. A. Kronenberg (Ed.)]. CALICO Journal [forthcoming]
Sebastian, P., & Martinsen, R. (2015). Facebook as a virtual learning space to connect multiple language classrooms. IALLT Journal of Language Learning Technologies, 45(1), 44-69.
Conference Presentations
"Massive Open Online Courses Within and Beyond the University Setting" International Association for Language Learning Technology (IALLT) Conference. Concordia College, Moorhead, MN, June 2017
"A Pedagogical Reading of the Linguistic Landscape" Rocky Mountain Council for Latin American Studies (RMCLAS) Conference. Salt Lake City, UT, April 2017.
"Harnessing the Power of Technology for Language Learners" Federal Programs Conference. Boise, ID, April 2017.
"Signs of Life: Evidence of Asturiano on the Linguistic Landscape of Asturias, Spain" American Association of Applied Linguistics (AAAL) Conference. Portland, OR, March 2017.
"Facebook as a Virtual Learning Space to Connect Multiple Language Classrooms"
European Computer Assisted Language Learning (EUROCALL) Conference. Padova, Italy, August 2015.
"Pedagogical Exchange in Common Digital Spaces; Language Learning and Facebook" American Council on the Teaching of Foreign Languages (ACTFL) Conference. Orlando, FL, November 2013.
"Telenovelas in the Classroom? 'Yo soy Betty, la fea' as Text for Intermediate Spanish Language and Culture" Computer-Assisted Language Instruction Consortium (CALICO). Notre Dame University, South Bend, IN, June 2012.
"Using Digital Spaces for Learning" THATCamp Rocky Mountain. Brigham Young University, Provo, UT, March 2012.
"Telenovelas in the Classroom? 'Yo soy Betty, la fea' as Text for Intermediate Spanish Language and Culture" Utah Foreign Language Association. Utah Valley University, Orem, UT, November 2011.
Invited Lectures & Seminars
Sebastian, P. (2018, January) The (ir)relevance of language resource centers in today's technological and methodological climate: Situating relevance within three specific paradigms. International Association of Language Learning and Technology (IALLT) Online webinar.
Sebastian, P. (2016, May) Introduction to English language acquisition. Northwest University of Politics and Law. Xi'an, China.
Sebastian, P. (2014-2016) Technology for language learning. Annual Sun Valley summer Spanish institute. Sun Valley, ID
Sebastian, P. (2013, June). Chilean culture. Annual Sun Valley summer Spanish institute. Sun Valley, ID
Portfolio
Online portfolio (CV)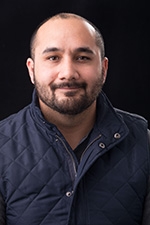 Title:

Assistant Professor, Applied Linguistics , Director of the Language Acquisition Resource Center
Department:

Languages, Literatures & Cultures

Email address: Email me

Phone: (828) 262-2932
Office address
Sanford Hall 524