Language(s) taught
French
Teaching/Research
19th and 20th century France; literature and the visual arts; cognitive approaches to literature; aesthetics
Degrees/Certifications
PhD in French (2013), Stanford University
BA in Comparative Literature (2007), Vanderbilt University
Personal Bio
Darci Gardner specializes in nineteenth- and twentieth-century French literature with interdisciplinary concentrations in art and cognitive science.
She recently authored "Cognitive Bias and Narrative Credibility in Proust" (forthcoming in Philosophy and Literature) and "Landscapes and Perceptual Distortions in Proust" (Nineteenth-Century French Studies, vol. 48, no. 1 & 2), among other articles. Her previous publications include a discussion of the intertextual and interartistic dimensions of Marie Krysinska's poetry (Nineteenth-Century French Studies, vol. 46, no. 1 & 2), a piece on how and why Proust's labyrinthine sentences change the way we read (Poetics Today, vol. 37, no. 1), and an essay on the poetics of Yves Bonnefoy (Romance Notes, vol. 53, no. 1).

Since joining the faculty at Appalachian in 2014, she has designed a variety of new classes, including a General Education course on filmic adaptations, a short-term study abroad program in Paris, and a graduate course on instructional methods for French teachers. She offers a graduate seminar titled "Literature and Cognition" (FRE 5532) on the UNC Language Exchange and also regularly teaches Masterworks of French Literature, Women Writers of French Expression, and language courses at all levels.

Previously, she taught as a Lecturer at Stanford, where she completed Oral Proficiency Interview training and became an ACTFL Certified Tester in French.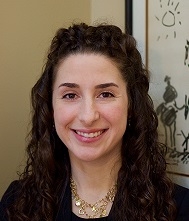 Title:

Assistant Professor, French
Department:

Languages, Literatures & Cultures

Email address: Email me

Phone: (828) 262-2928
Office address
LS Dougherty 210 J