Language(s) taught
German
Teaching/Research
Teaching areas include German language and culture, medieval German literature, fairy tales, Arthurian legends, "Mittelalterrezeption"
Degrees/Certifications
PhD, German, The Pennsylvania State University
MA, German, University of Wisconsin-Madison
BA, English, University of Rochester
Academic achievement
The most recent achievement, of which I am very proud, is the award for Outstanding Faculty Advisor in the College of Arts and Sciences for 2014.
Personal Bio
When I'm not in the office, you might find me: playing the violin, Nordic walking, trying out interesting recipes, watching Tatort, reading JRR Tolkien, swinging on the porch, or planning the next trip to... well, Germany, Austria or the UK. Iceland is on my bucket list!
Publications/Presentations
Articles currently under review
"Re-imagining Communities in The Dark Kingdom and Merlin." For a collected volume on TV Medievalisms
"The Nibelungenlied and its Interfigures: Old Texts on the Museal Stage. The Machinery of Myth at the Nibelungen Museum in Worms
Book project in progress
Mixed Media and Memory: Interfigures and the Reception of Medieval German Literature from the Nibelungenlied to Wolframs Eschenbach (working title)
Grants
2010-2012 Award of UISFL Undergraduate International Studies and Foreign Languages grant from US Department of Education: Making Local to Global Connections: Strengthening Foreign Languages across the Curriculum at Appalachian State University. Co-principal investigator with Dr. Beverly Moser, Associate Professor of German. $300,000
Publications in print
Book: Sterling-Hellenbrand, Alexandra. Topographies of Gender in Middle High German Arthurian Romance. New York: Garland, 2001
Articles
Hellenbrand, Jack and Alexandra Sterling-Hellenbrand. "Welcoming the Stranger: Global Learning, International Education, and the Pedagogy of Gastfreundschaft." karlsruher pädagogische beiträge (kpb). Pädagogische Hochschule Karlsruhe. Zeitschrift für Erziehungswissenschaft und Fachdidaktik. (78/2011) 95-110.
Sterling-Hellenbrand, Alexandra. "Performing Medieval Literature and/as History: The Museum of Wolframs-Eschenbach." In Defining Neo Medievalisms (II). Studies in Medievalism XX. Ed. Karl Fugelso. Cambridge: D.S. Brewer, 2011, 147-170.
Sterling-Hellenbrand, Alexandra. "Excalibur's Siegfried and the Music of Myth." Yearbook for the Society of Medieval German Studies Vol. 1. (Spring 2009): 34-49.
Sterling-Hellenbrand, Alexandra. "Uta and Isolde: Designing the Perfect Woman." The Politics and Aesthetics of Gender in the Middle Ages. Proceedings of the Nineteenth Annual Meeting of the Illinois Medieval Association. In Essays in Medieval Studies. Vol 19. Morgantown: West Virginia Press, 2002, 70-89. Reprinted in
Classical and Medieval Literature Criticism (CMLC) volume 96. Ed. Jelena Krstovic. Farmington Hills, MI Thomson Gale/Gale Cengage, 2008.
Sterling-Hellenbrand, Alexandra. "daz hat diu harpfe getan": Music and the Performance of Courtly Culture in Middle High German Courtly Literature. Courtly Arts and the Art of Courtliness. International Courtly Literature Society 2004. Ed. Keith Busby and Christopher Kleinhenz. Rochester, NY: Boydell and Brewer, 2006, 635-651.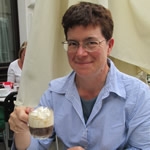 Title:

Professor, German and Director of Global Studies
Department:

Languages, Literatures & Cultures

Email address: Email me

Phone: (828) 262-7225
Office address
LS Dougherty 206